Want to expand your market and go global? Trust Sea Air to ship your live animals.
When we say we ship anything, anywhere, we mean it!
We're known across North America and around the world for our shipments of live animals. And with good reason. We've shipped thousands of them to dozens of countries around the world.
Our proprietary pen systems are custom made, and take both the type of aircraft and animal into account. You won't find a cookie-cutter solution with Sea Air.
With Sea Air, every condition is taken into account; from the type, size, numbers, and even age of the animals, to the distance of the trip, and type of aircraft or ship used.
Whether moving just a few head of cattle or an entire herd, Sea Air are livestock experts, and have custom made solutions for every animal and every mode of transportation.
We've moved thousands of live animals, and we can move yours too. Put Sea Air to work for you.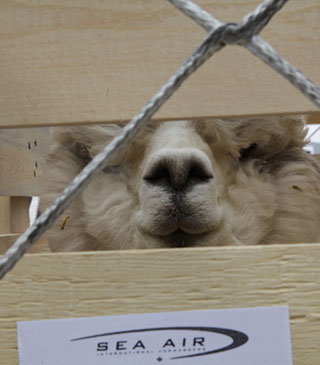 Over a century of combined experience in shipping live animals.
Our proven track-record of efficient and delicate handling of live animals reduces stress on the animals, as well as your bottom-line.
Customized animal pens are NEVER re-used. We work hard to ensure that there is no chance of cross contamination. Our pens always exceed the strictest regulations.
We're familiar with each country's unique customs regulations regarding the handling, and importing of live animals.
We love what we do, and will work hard to elevate your reputation, as well as our own.
So whether you're shipping a Flock of sheep, a Kine of cows, or a Drift of pigs, we've got you covered.
Call us today and see why we're the best in breed when it comes to moving your live animals.